The Future of Dependable, Portable On-Demand Cooling Solutions
The VADE™ and INTEGRITY™ product lines offer temperature controlled Portable Coolers. These ultra-lightweight, iceless, cordless insulated coolers and warmers allow products to remain fresh and undamaged during transport.
If your product must be kept at a specific temperature for any duration of its shipping time, Integrity has your solution.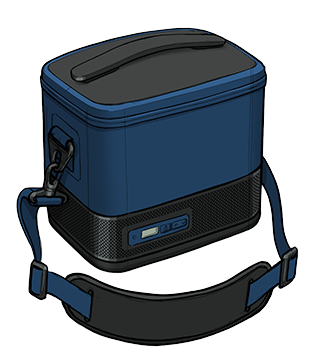 Who Needs Ice Anyway?
VADE™ and INTEGRITY™ insulated coolers and warmers are patented, battery-powered portable temperature assurance products. The product line is fully portable, ice free, gel free, and reusable.
These ice-free portable coolers combine Sheetak's advanced solid state cooling engines to enable temperature control, with our temperature assurance management system to monitor, record, and provide precise temperature control over a range of environmental conditions. The core temperature assurance engine can be scaled to fit a wide variety of form factors and applications.
Our coolers and heaters are rechargeable and mobile for easy transport of product. Designed for convenience, they are lightweight, easy-to-carry, and re-chargeable. Plus, reusable, ice- and gel-free coolers mean no waste and nothing to discard and recycle. That's great news for the environment and great news for your expenses.
Features: 
Battery Powered

 

Solid State Temperature Control for Cooling and Heating

Ice and Gel Pack Free for less waste and less cost
Mobile

 

Connected
Industries:  
Pharmaceutical
Food & Beverage
Healthcare
Electronics Materials
Factory/Industrial
Research/Laboratories
Events
Telecomm and Datacenters
Applications:  сиалис софт купить
Vaccine for COVID 19, ultra-cold, -80° C
Precision temperature control of vaccines, medicines, and other high-value products 
Online food order and delivery
Ecommerce
Mobile vending 
In-vehicle vending/In vehicle refrigeration for rideshare or other delivery services
Cold chain transportation and temperature-sensitive shipping 
Outdoor events, sports and recreation